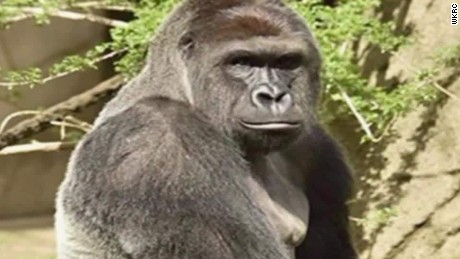 ( CNN ) The killing of 17 -year-old Western lowland gorilla Harambe to protect a 3-year-old boy who had slipped away from his mother and entered the gorilla habitat at the Cincinnati Zoo and Botanical Garden has galvanized social media and left many wondering who to blame: the mother or the zoo?
In 2006, a 9-year-old girl ignored warning signs and climbed into a meerkat enclosing at the Minnesota Zoo. The zoo said she had to crawling through several roadblocks and over a stone wall and then reach down into the exhibit, where she was bitten. The zoo was forced to euthanize a family of five working meerkats, two adults and three babies, to test for rabies. The tests were negative.
Say no to photos
There are still wild animal parks and menageries that allow or advertise having photos taken with wild animals, including apes and wild cats. No matter how safe it may appear, experts say, don't take the chance. In 2005, 17 -year-old Haley Hilderbrand was
mauled to death
while having her high school senior portrait taken with a Siberian tiger at a Kansas animal sanctuary. The owned was unable to stop the animal, even though it was constrained.
Teach respect
Other top recommendations include teaching your children that zoo animals are not cuddly versions of their stuffed toys at home but are truly wild animals that will react on instinct. That includes those at the petting zoo, who may not take kindly to a hit or swat instead of a pat .
Read more: www.cnn.com