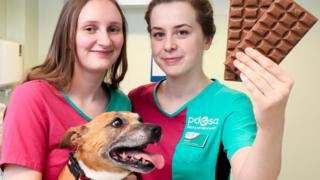 The Christmas adornments are up, the fridge is stocked and we are nearly ready to relax and overindulge on this most wonderful time of year.
But those festive treats and knick-knacks can be harmful to our pets – with one veterinarian saying she treats three times the number of animals in December than any other month.
BBC News spoke to the vets who treat our beloved, if somewhat gluttonous, pets when things go wrong.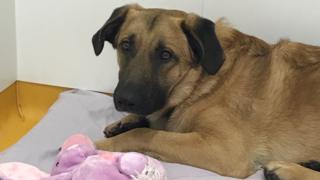 Mickey the Belgian shepherd had to spend three nights at a veterinary hospital earlier this month after munching on a mince tart he took from a plate on the sofa.
The 15 -month-old was then given an injection to construction him sick.
Debs Smith, from Scarsdale Vets's Pride Veterinary Centre in Derby, said Mickey was then fed snacks with charcoal which "binds with any toxins left in the stomach" to prevent them absorbing into the body.
He was also put on intravenous liquids( IV) for 48 hours to keep him hydrated.
"Mickey was given IV liquids as raisins, sultanas and currants can cause kidney failure, " she said.
The vet said if a dog had feed even the smallest amount of raisins or currants, they would advise treatment.
Mrs Smith said this was typically how they treated pets who had ingested foods toxic to them.
"Unfortunately if they are not treated early it can be fatal, " she said. "The earlier these things are treated the more successful."
Grapes, raisins and sultanas are known to be toxic to dogs, and the PDSA said although it was not proven they were equally dangerous to other pets such as cats, it was probably still best it they avoided them.