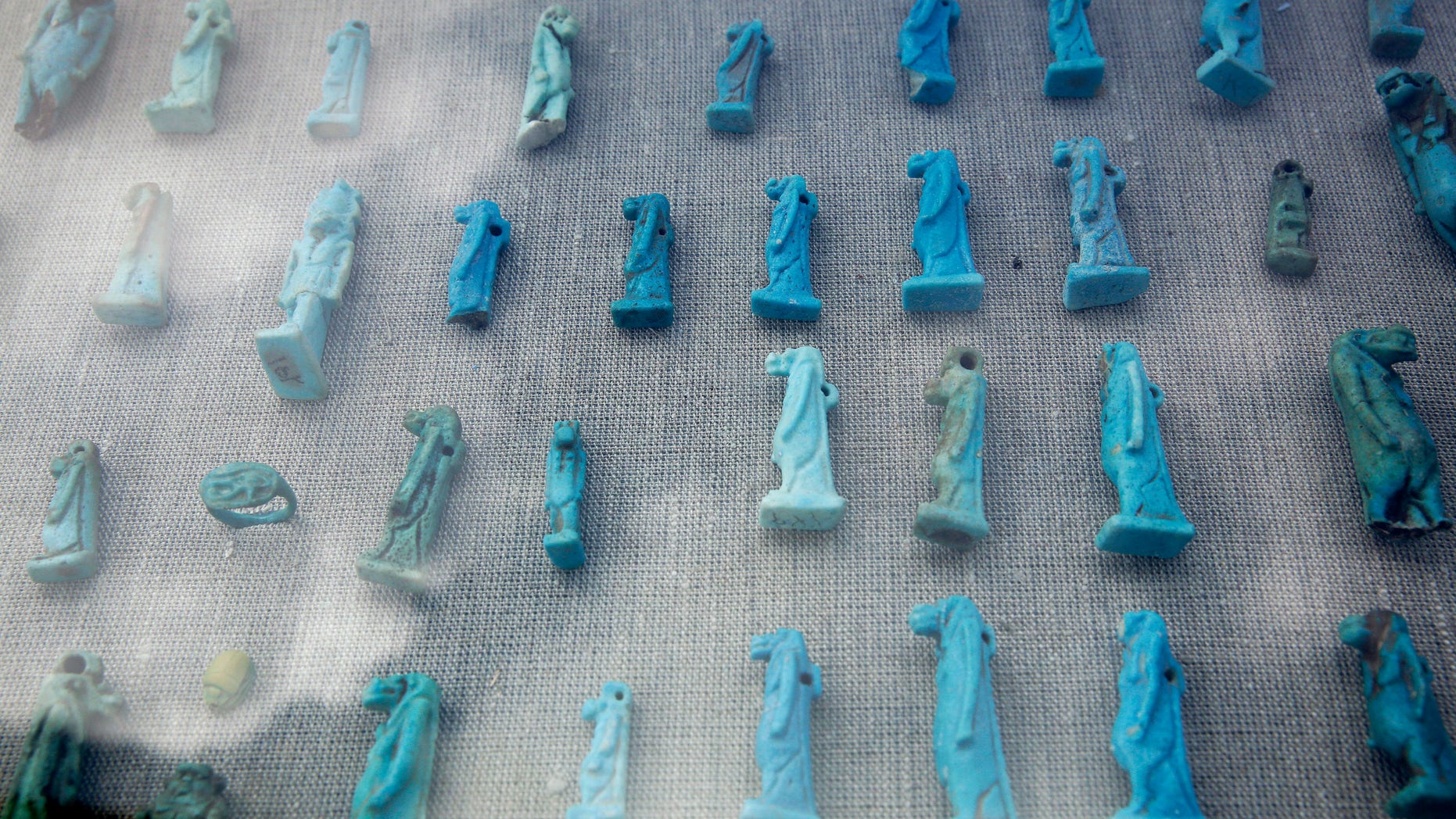 Artifacts on display in a glass occurrence, at an ancient necropolis near Egypt's famed pyramids in Saqqara, Giza, Egypt, Saturday, Nov. 10, 2018. A top Egyptian antiquities official says local archaeologists have discovered seven Pharaonic Age tombs near the capital Cairo containing dozens of cat mummies along with wooden statues illustrating other animals.( AP Photo/ Nariman El-Mofty)
An Egyptian antiquities official said Saturday that archaeologists had detected seven Pharaonic Age mausoleums near the capital city of Cairo, holding dozens of cat mummies and an array of wooden carves illustrating various other animals.
The official, Mostafa Waziri, told reporters that the discovery at Saqqara also includes mummies of scarab beetles, the first ever to be found in the area, The Associated Press reported.
Of the statues saw, those depicting cats were dominant, a reflection of the reverence with which Egyptian culture is thought to have considered felines. Other statues included that of a lion, a cow and a falcon, reports said.
According to a report by the Reuters news service, as they were preparing the site to present the latest discoveries, archaeologists discovered the door of another tomb that remains sealed, Waziri, secretary-general of Egypt's Supreme Council of Antiquities, told reporters.
The tomb dates from the Fifth Dynasty of the Old Kingdom. The Fifth Dynasty ruled Egypt from about 2,500 BC to 2,350 BC, Reuters said — not long after the great pyramid of Giza was built.
Notable about this find is that the facade and doorway are intact, entailing its contents may still be untouched, said Mohamed Youssef, director of the Saqqara area. He said experts plan to open the tomb in the coming weeks.
Egypt has been whipping up publicity for its new historical discoveries in the hopes of reviving a devastated tourism sector still recovering from the 2011 uprising that toppled Hosni Mubarak.
Read more: www.foxnews.com