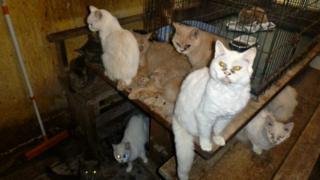 A couple who kept 73 cats in "terrible conditions" has been banned from maintaining animals for life.
Penelope O'Dell, 71, and David O'Dell, 70, gave the pets "completely incompetent care", magistrates heard.
They both acknowledged three charges, including causing unnecessary suffering and failing to ensure the animals' wants were met.
However, RSPCA prosecutor Lindi Meyer said the couple had been well-intentioned.
'Sincerely sorry'
The house in Looe, Cornwall, had a powerful smell of ammonia and inspectors observed 10 overflowing litter trays, Bodmin Magistrates' Court heard.
In a statement, Mr O'Dell said he was truly sorry for the cats' agony. He said he had been dealing with the loss of "his fathers" and had complaints of his own.
Mrs O'Dell said she was heartbroken and devastated, adding that she loved the cats and was "sincerely sorry".
The estranged pair, from Pendrim Road, were both be subject to 12 weeks in jail, suspended for 18 months, and given a lifetime ban from owning, keeping or looking after any pets.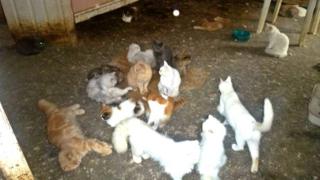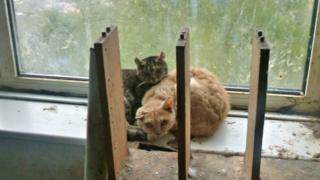 Insp Claire Ryder, from the RSPCA, said it was "shocking environment" and the "smell was utterly overpowering".
She said: "There were some[ cats] with eye conditions and ear problems, and, regrettably, some did have to be put to sleep under vet's advice because of their welfare.
"They were just all agony and it was just not right."