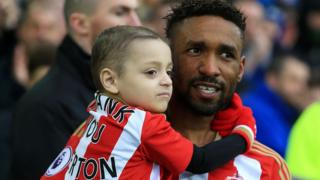 Former Sunderland footballer Jermain Defoe is to be honoured for his relationship with young Bradley Lowery.
The six-year-old avid Sunderland fan, from Blackhall Colliery in County Durham, died in July 2017 from a rare form of childhood cancer.
He was a mascot for the Black Cats and struck up a close friendship with Defoe, who now plays for Bournemouth.
The player is to be named Personality of the Year at the North East Football Writers' Association's annual awards.
The award, which is given in association with the Sir Bobby Robson Foundation cancer charity, recognises those who use their position in football to benefit the wider community.
The youngster's plight touched thousands of well-wishers and a charity in his name was launched by his parents after 100 000 pounds was raised.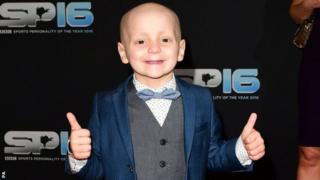 Bradley died on 7 July last year having been diagnosed with neuroblastoma when he was 18 months old.
Defoe said he had an "instant connection" with Bradley after visiting the ill kid in hospital and regularly travelled to the family home to insure him.
Sir Bobby's widow, Lady Elsie, said: "The special connection between Bradley and Jermain was apparent for everyone to see. I'm very proud that Jermain is receiving our award because it recognises his magnificent compassion and his commitment to helping other children with cancer in Bradley's memory.
"The passion for football in this region entails it has great power to do good. The friendship between Bradley and Jermain, and all the positive things that have happened because of it, is proof of that."
Colin Young, secretary of the North East Football Writers' Association, added: "The very special friendship between Bradley Lowery and Jermain Defoe touched the whole country.
"It started from a joint love of football and Sunderland Football Club and blossomed into a bond which was an inspiration to millions of fans across the world."
The awards ceremony is due to take place on 25 February.