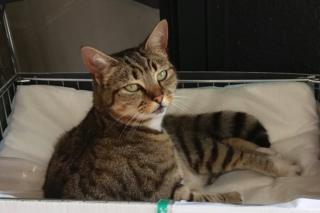 Shoppers have been asked to stop feeding a "celebrity" cat who apparently turns "vile" when her proprietors try to keep her at home.
Minnie the tabby has worked out she gets treats if she hangs around the Co-op in Netherfield, Nottinghamshire.
She even injured herself jumping out of a window so she could get back there when her owneds locked her in.
Her fans include the leader of the borough council, who stroked and fussed her on a visit to Netherfield.
'She tricks everyone'
But owner Andrea Blower said Minnie has a different side to her.
"She tricks everyone into feeling sorry for her, " said Ms Blower.
"When we go and see her at the Co-op she's the nicest cat ever, but as soon as we get her home she's merely vile.
"I think it's because we've tried to lock her in so many times."