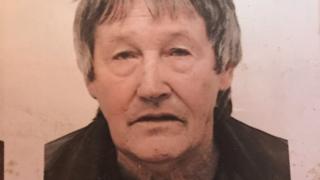 A friend of one of three humen in their 80 s were dead in Exeter has described how he found his body – and an antique handgun next to him.
Keith Baker, 68, who found Anthony Payne dead at the 80 -year-old's Bonhay Road home on Monday, said he found the gun on the bed nearby.
Twins Dick and Roger Carter, 84, were found dead in Cowick Lane the next day.
Police previously said a firearm was not employed. A 27 -year-old man has been arrested on mistrust on murder.
Detectives have until 22:00 GMT to question him.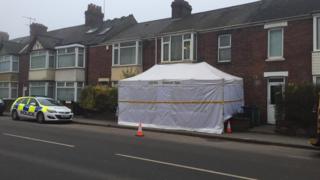 Mr Baker said Anthony Payne, known as Tony, had been living with him since September and they had known each other for years.
He said he had not seen his friend since Saturday, and went to the house in Bonhay Road, where Mr Payne had lived previously, to see if he was there feeding his cats.
Mr Baker told the BBC he found Mr Payne on his bedroom floor between his bed and the wall.
"I tried to feel a pulsation but I couldn't get anywhere near his neck, that's how bad he was jammed in there, " he said.
'Bit of a curmudgeon'
Mr Baker said there was an antique pistol on the bed but he thought it was too old to have been fired.
"I could see there was something seriously wrong so I called an ambulance, " he added.
Mr Payne had worked on a farm from leaving school, before doing National Service in the Army, and later did constructing work, according to Mr Baker.
Outside of run Mr Payne was a big Exeter City fan who enjoyed maintaining his allotment and look out his cats, particularly one called Boxer, who was the "apple of his eye", Mr Baker said.
He added: "He was a decent, ordinary 80 -year-old bloke and I say it with affection but he was a bit of a curmudgeon."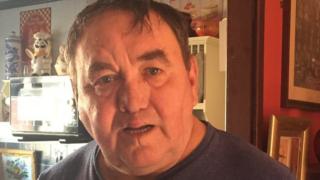 A friend of one of the twin brothers who were murdered said he "wouldn't have done anything to harm anybody".
Martyn Liddon, who runs Exeter-based charity Men in Sheds, "says hes" became friends with Dick Carter when talking to him on the bus.
He said the brothers were both recluses and he could not understand what had happened.
"When I heard about it I had tears in my eyes, " he added.
"I was totally gutted because they wouldn't have done anything to harm anybody."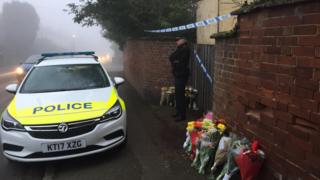 Police were first called to Bonhay Road at 15:00 on Monday where Mr Payne's body was found.
Officers then find the Carter brothers dead about 1.5 miles( 2.4 km) away at 13:00 on Tuesday.
The levels of violence involved in the deaths led detectives to connect the deaths.
Latest news from Devon and Cornwall Murdered humen in 80 s had 'head injuries' Twins among three humen in 80 s found dead