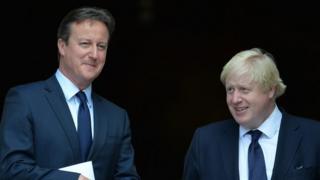 Boris Johnson has accused David Cameron of a "stitch-up" in a row over business leaders' role in the EU referendum.
A leaked letter has suggested the prime minister met a resulting business figure in February, before he concluded his EU renegotiations, to discuss how support for EU membership could be "mobilised".
Mr Johnson said it demonstrated his reform efforts were a "meaningless ritual".
But the prime minister said his deal had addressed "frustrations" with EU red tape, integration and the eurozone.
The Leave campaign says it has the backing of more than 300 business leaders for its cause but speaking in London, Mr Cameron said they were "losing the argument" and there was a "clear consensus" that leaving the EU would be damaging for British jobs and livelihoods.