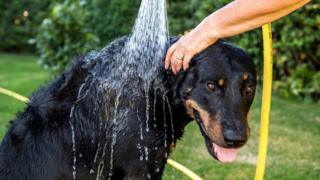 As temperatures continue to soar, livestock and pets necessitate greater care than usual. A previously "fit and healthy" dog died recently in Greater Manchester from heatstroke after a morning walking. So what can you do to keep animals safe?
For many four-legged, finned or furry friends, the prolonged warm and dry climate can cause problems. The RSPCA has received hundreds of calls over recent days about animals suffering from heat exposure.
Dogs in particular struggle in the hot weather because they are not able to cool down through sweating, as humen do, and those breeds with long coats are especially prone to overheating.
A five-year-old German Shepherd was put down on Friday after suffering heatstroke following a stroll. The RSPCA said the owner had been throwing a ball for their pet when the dog became ill, began suffering seizures and had to be put down.
The RSPCA has released a series of tips for maintaining animals safe and comfy during the heatwave .