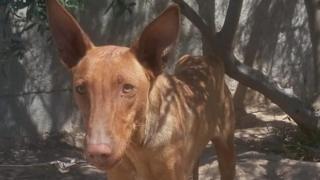 A dog who went missing for 20 days has been determined after she managed to make her route into an RAF airfield.
Spanish podenco Canela slipped off her lead on a stroll near Pontypridd on 15 December.
More than 30 volunteers were involved in searches following several sightings, placing traps and cameras.
A Ministry of Defence( MOD) spokesperson confirmed that a puppy which had been reported missing was found at RAF St Athan.
Stolen dog discovered 300 miles from home Stolen dog home after two-year search Woman's three cats 'poisoned' in same week Image caption Canela was a surprise birthday present – but Louise Evans said her disappearance ruined two birthdays, Christmas and New Year