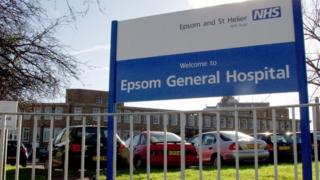 A cat caused an infection scare after it entered a hospital site and was "found lying in a linen cupboard" by bosses.
A report in The Sun said a deep clean was ordered at Epsom Hospital after the cat's activities came to light.
The paper published pictures of "Monty" on a desk and in a stand-off with a rat "within hospital grounds".
But trust chiefs denied personnel were keeping it as a pet and said the affected area had been decontaminated.
The report in The Sun alleged faculty bought the Burmese a basket, food and scratch pad and let him prowl around A& E.
It said concerned hospital bosses "went nuts" when they discovered the cat and sacked a staff member after an investigation.
The paper said that Monty's real owned, who lived nearby, was finally traced when he was found to have a microchip.
Norovirus fears
Epsom and St Helier NHS trust said in a statement that the "health and wellbeing of our patients" was its first priority "and that includes protecting people from the risk of infection".
It said that when it came to illumination an animal had entered one of its sites, it immediately launched an investigation.
It added: "In order to determine the facts of the matter, we needed to install additional CCTV cameras in a storage area of research hospitals.
"As a result of the investigation, a member of contracted staff has since been dismissed for neglect their official duties whilst at work( including lying down for long periods when they should have been working ), and we found evidence that the cat had been on site in this non-patient, storage area. This area has been decontaminated fully.
"We would like to assure all of our patients, guests and local people that we have taken this matter very seriously."
'List of worries'
Asked if there was a rodent problem on site, the trust said: "As with any organization of this size, and with houses as old as ours, there are occasions when pests are observed on site.
"We take this very seriously, and employ pest control experts to help us manage this."
Infection control expert Professor Hugh Pennington said cats pose a low danger to humans.
However, he added: "You actually can't have a pet roam loose in a hospital."
He said norovirus – which causes vomiting and diarrhoea – would be "top of my listing of worries" as the cat could carry the glitch around the building on its feet.
"It would make it more difficult to control the infection. It's a very tough virus and you only need to ingest a small number of particles to fall ill, " he said.
"That would be top of my listing of frets as faculty can get infected, wards have to be closed – that can be a major crisis for the NHS."