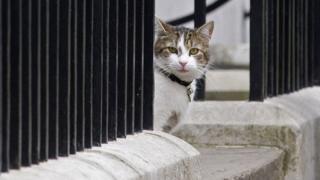 As the new PM strolls into Number 10 he will be greeted with applause by Downing Street staff – but there is one employee who is notoriously hard to impress.
Larry the cat currently holds the official role of chief mouser to the Cabinet Office, a position that's said to date back hundreds of years.
So how have previous PMs warmed to their four-legged civil servant over the years? A cross-species special relationship or a classic instance of feline apathy?
Theresa May
In a 2016 interview with the Sunday Times, Theresa May said she was "very happy to see Larry", but hinted she was more of a puppy person after growing up with them at home.
She did note there were parts of Number 10 where Larry "rules the roost" with certain seats he expects to sit on. However, her own office chair was not one of them.
Their relationship is unlikely to have improved after Larry was tactically extracted by police before Mrs May's resignation speech amid anxieties he would upstage the depart PM.
With many outgoing prime ministers in their final days often rewarding or knighting members of their loyal staff, perhaps a chance to repair the relationship still remains.
But the chief mouser is likely to be more interested in the ongoing turf war between him and his Foreign Office rival, Palmerston.
Multiple fights have broken out in front of cameras on Downing Street, with security guards having to step in to rescue Palmerston in October 2016.
David Cameron
In his final Prime Minister's Questions before resigning, David Cameron quashed gossips he and the Downing Street cat did not get on by brandishing a picture of Larry curled up on his lap.
"Sadly, I cannot take Larry with me – he belongs to the house and the staff love him very much, as do I."