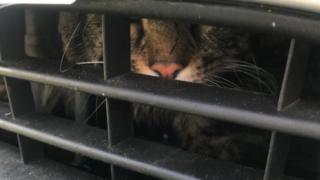 A car had to be partially dismantled after a stowaway cat get "well and truly trapped" in the front grille.
It is thought the male tabby might have been stuck for up to two days when the driver of the Ford Focus noticed it staring back at him in Clacton, Essex.
Steven Kane had driven about 80 miles( 128 km) on a holiday from Hertfordshire and said he had no idea when "our little hitchhiker" got on board.
The AA took the car apart to get to the "very smelly" cat.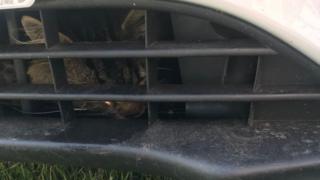 The unchipped moggy – nicknamed Ford – was both a little whiffy and hungry when he was pulled to safety after the car owner parked up on the seafront in Clacton, RSPCA inspector Lucy Brennan said.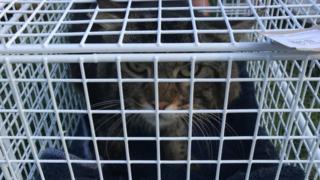 The charity had to call in the AA, who "carefully dismantled the car by taking out the headlights and bumper and freeing the poor moggy".

You may also like/ be interested in:
Micro pig predicts World Cup outcomes Lottery millionaire still works at Asda Could this be England's biggest fan ? Image caption If Ford's owner does not come forward, he will be rehomed