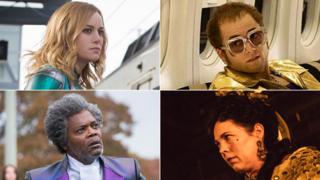 As 2018 prepares to shuffle away like a pensionable usherette and 2019 gets ready to throw open its doors like a brand new 28 -screen multiplex, it's time to cast our eyes over next year's cinematic offerings.
From Oscar hopefuls and musical biopics to superhero sequels and blockbuster remakes, there's something for almost everyone over the next 12 months.
Here's a by no means exhaustive preview of coming attractions.
January/ February/ March
With the Oscars taking place on 24 February, the first few months of 2019 will see a large number of film awards competitors jostling for attention.
Who will win big this awards season ? Secrets to spotting an Oscar winner Image caption Emma Stone( left) and Rachel Weisz( right) compete for Colman's affections in The Favourite Margot Robbie's reluctance to play Elizabeth I 'Don't tell me to hate my father' How Rudolf Nureyev continues to inspire Hugh Jackman does not want your vote Image caption Bruce Willis, Samuel L Jackson and James McAvoy as they appear in Glass Image caption Brie Larson has a develop to catch in Captain Marvel Avengers 4 name 'a very big deal' Ed Skrein discontinues Hellboy over 'whitewashing' Image caption Detective Pikachu's yellow fur has been a hair-raising topic for many fans 'Gross' furry Pikachu divides Pokemon fans Keanu Reeves has a role in Toy Story 4 Image caption Taron Egerton plays Elton John in Dexter Fletcher's Rocketman Elba joins Fast and Furious film scenes Margot Robbie pictured as Sharon Tate Image caption Brad Pitt and Leonardo DiCaprio dress to impress in Tarantino's latest Lion King trailer captures imagination Downton movie 'like a school reunion' Kristen Stewart decide for Charlie's Angels Phoenix becomes latest Joker in the pack Image caption Natalia Reyes, Mackenzie Davis and Linda Hamilton as they appear in the next Terminator film